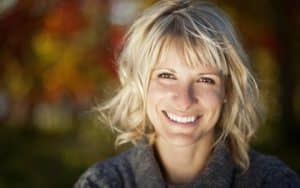 We are committed to providing treatments that benefit your overall health. Laser dentistry offers some exciting benefits to our patients and helps to support our integrative approach to dental care.
Laser treatment is comfortable because it has a low impact on your oral tissues. There is even less bleeding and gum irritation when we perform procedures using lasers instead of traditional tools. These lasers also help make your procedure more efficient, so you can spend less time in the dental chair.
At Brentwood Dental Designs, we can offer two innovative laser dentistry options for your care.
CO2 Soft-Tissue Lasers
Using CO2 lasers means that we can provide a "non-contact" laser treatment. This can be especially helpful for those with metal restorations or dental implants. CO2 lasers are gentle on soft tissues, which is helpful for easing anxiety and ensuring a speedy recovery process.
A key benefit of using CO2 lasers is that we can use them for a number of laser dentistry procedures:
Periodontal therapy.
Dentin desensitization.
Crown lengthening.
Soft-tissue treatment, such as a frenectomy or gingivectomy.
Lesion treatment: cold sores (herpetic lesions), canker sores (aphthous ulcers), leukoplakia, lichen planus, hemangioma, fibroma excision, and biopsy.
Implant assistance, including treatment of peri-implantitis.
The gentle nature of a CO2 laser makes it ideal for halting gum disease and treating various lesions. Although we appreciate what a CO2 laser can do for your oral health, we also appreciate the role of this laser in cosmetic treatments, such as crown lengthening. Procedures like crown lengthening can subtly change your smile for the best!
We would love to put our CO2 laser to work for your oral health! Call us today if you would like to experience the versatility of a CO2 dental laser.


Fotona Lightwalker® Laser
We love using dental tools that can improve both your oral health and your experience here at Brentwood Dental Designs. As we look for ways to provide safer, more effective treatments, the Fotona Lightwalker Laser is an excellent way for us to continue to provide the type of dental care you deserve.
This laser tool is faster and more precise than any other tool on the market. Your treatment can be more efficient and comfortable than ever when we use the Fotona Lightwalker Laser in your dental care.
There are so many uses for this laser. A few of these uses include:
Disinfecting tissues.
Biostimulating surgical sites.
Removing subgingival caries.
Performing oral surgery.
Preparing dental implant sites.
Treating sleep apnea.
Procedures with the Fotona Lightwalker Laser are bloodless and painless because of the way the laser interacts with your tissue, ensuring instant coagulation and disinfection.
Using tools like the Fotona Lightwalker Laser is part of our commitment to provide dental care that benefits your overall health as well as your smile!


Laser Dentistry at Brentwood Dental Designs in Epping, New Hampshire
We are proud to bring you the latest technology in dental innovations while simultaneously honoring our commitment to providing treatments that benefit your overall health. These laser dentistry tools help us treat your oral conditions in such a way that we do not negatively impact your whole body health. Ask us about any of our laser dentistry treatments, including crown lengthening, and we will be happy to explain them in more detail!
Call today if you would like to experience the unique combination of state-of-the-art technology and a biological approach to dentistry that we offer our patients. We are ready to help you today!